Copyright
Anyone who produces something themselves - be it a text, a melody, a picture or a video - is entitled to copyright. The Federal Act on Copyright and Related Rights (CopA) regulates which artistic works are protected and to what extent. Film productions such as image films, commercials or cinema films also count as "intellectual creations with an individual character" and are therefore protected by copyright. The use of these is only possible with the consent of the originator. The originator himself can offer, sell or make his work available to the public in other ways. He is also the one who decides who may use his work in other ways or even change it. The copyright for films, videos, written works and more exists up to 70 years after the death of the creator. In the case of videos and films, the originator is the director.
If sound recordings are used by third parties, the originator must give prior permission. The artists involved have a claim to remuneration. This is also divided among the producers. This applies in particular to artists whose place of residence is in Switzerland.
Thus, every originator has the right to present and reproduce his own productions. Anyone who wishes to use these materials, such as explainer videos or other productions, must obtain permission from the originator to do so and must also cite the originator as his or her source. The originator has the sole right to determine if, how and when his video or film is used.
Tip: Customers who have a video produced automatically receive the right to use it in their own interests and for marketing or presenting their company.  Of course, the source or producer of the video must be named here as well.
Right of use
The right of use affects many factors, such as performing, reproducing or modifying copyrighted material. Especially in film productions, it is important to know who holds the rights to the film or video. This is usually the director. Therefore, make sure that you have also obtained the rights of use from the director of the respective film. In addition to the film recordings, the sound tracks are also subject to extra legal regulation. You will find a detailed explanation of this in the next section.
In general, works such as videos and films must be registered with SUISA. This is particularly helpful in the case of commercials. The number assigned by SUISA serves as a registration number for the broadcasters where your spot is to be broadcast. Especially we as producers have to make sure that we have acquired the rights of use for third-party content that we use in our videos. This is particularly important with regard to music used, unless it was composed especially for the video or film.
Any use must be compensated to the originator. Also, the material may only be used for the agreed purpose. However, no remuneration must be paid to the originator for exclusively private use. The works can be shown in the closest circle of family or friends without any problems.
Music rights
As mentioned above, music used in videos and movies is also covered by copyright. However, it has its own regulations. Not every music may simply be used always and everywhere. If music is to be used in a video or film, there are several possibilities. The composers of the melodies are protected by copyright, all well-known composers have their works registered with SUISA. Thus, they are protected by the company, which regulates all important matters in this regard. If you then want to use one of these recordings for your film production, for example, you have to pay for it. Apart from already registered music, music can also be composed especially for the production. However, the rights to this music again remain with the producer and can only be used by the client for the agreed purpose. Depending on the contract, the composer may release the music only for the company or sell it to other companies.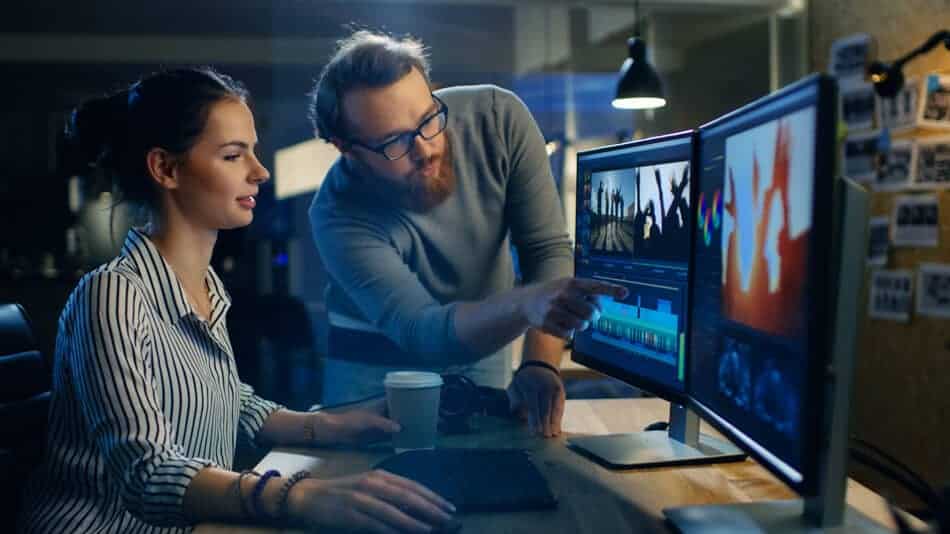 The most cost-effective option is licence-free music. Licence-free or better production music is music that can be used free of charge. No royalties have to be paid for it. It is pre-produced and easily available. This can be used in various promotional videos, product videos or other without having to pay additional duties.
Right to one's own image
The right to one's own image is understood as a personal right and is laid down in the Swiss Civil Code. In general, no one may be photographed, filmed or painted without their consent. However, since it is not possible to demand a declaration of consent from every person who is in a picture - especially not in crowds - this is additionally regulated. These regulations are as follows:
If the person is part of a crowd and another object is actually in the foreground, such as a building, this is not a violation of personal rights. Only if the person is visibly in the foreground of the image must a declaration of consent be obtained from him or her. This declaration should be related to the specific case and include the exact purpose of the publication. For all other purposes, the declaration is therefore null and void. Such a declaration is known mainly from photo shoots, but is also used for video shoots and others.
An important aspect of the right to one's own image - especially for photography or video shooting - is also the freedom of panorama. This means that pictures and videos of well-known objects, buildings and the like can be taken without any permission. However, this only applies to the exterior. Recordings of the interior of buildings, as is often the case with exhibitions, for example, require permission in advance.
So if people are filmed in an event video, close attention must be paid here to the extent to which the right to one's own image comes into force. If a recording is made of a crowd of people, the right does not come into force. If individual persons are in the foreground, such as during a speech, then a declaration of consent must be obtained. It is easiest to obtain these declarations before the event.
Filming permission on private and public property
If filming is to take place on public or private property, filming permits usually must be obtained. Location permits are subject to different regulations from community to community. On public property, you should obtain a permit for your video shoot from the respective city to be on the safe side. The regulations for this vary greatly.
In Zurich, for example, filming and photographing on public grounds for advertising purposes is allowed without a permit, as long as it does not exceed one hour in total and does not interfere with other people. In addition, you should only need a small camera equipment, a camera and a portable tripod for the shoot. If the shooting lasts more than an hour, a permit must be obtained from the city police. There are also annual permits that allow television stations, schools and other institutions to avoid having to obtain new filming permits over and over again. This annual permit must always be carried when filming.
In private areas, a permit should always be obtained, provided it is not your own property and no neighbouring properties are affected (for example, by spotlights). For this purpose, filming permission must be obtained from the owner. This can be either a private person or an administration. With this permission, care is also taken to ensure that nature is not harmed or protected species come into contact with the filming work.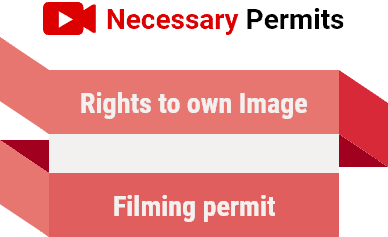 Swiss film rights
Rights of use, the right to one's own image or even music rights protect both sides of a video production. All these points are part of the copyright law, which in Switzerland regulates the rights for both sides of a production and the use of these. Everyone must comply with copyright law and obtain necessary permissions, violations will be punished.
If you have any questions or other concerns about film rights or would like to have your own film produced, we at youstream are happy to help – just send us an inquiry or give us a call.
All information given is without guarantee. In all cases, please also contact a legal advisor, who can provide you with legal support on all topics.